India Stakes Over $10 Billion In Africa; Seeks More Investment Opportunities
By Oluwatobi Opusunju
India has invested over $10 billion in Africa in less than a decade as the sub-continent seeks to expand and consolidate trade and deals with Africa's 54 countries particularly in ICT.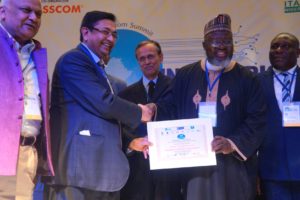 Indo-Africa trade relations is strategic to India, said the Chairman, Telecom Equipment and Services Export Promotion Council, TECP, Shyamal Ghosh,  yesterday, at the Indo-Africa ICT Expo 2017, organised by the TEPC, in partnership with NASSCOM, and other stakeholders.
For Nigeria's Minister of Communications, Adebayo Shittu, who was also speaking at the forum, India and Africa have greater window for collaborations across all sectors that would mutually benefit the two parties. Adebayo tasked stakeholders across the two divides to deepen the depth of collaboration particularly in ICT.
India has drawn closer with Africa though these investments and is open to strengthening the relationship as Africa opens more to business, said Ghosh, in his keynote speech at the two day event in Lagos with the theme:  'Digital Vision of Developing Nations.' ICT has become an economic enabler and one of the major factors for leapfrogging any country where economically or socially. India is both an ally and an investor in Africa's development, said Ghosh while extolling the critical position ICT has come to occupy in most of Africa's growing economies.
In the same vein, the Director-General, of TEPC, Shri Rajesk Kumar Bhatnagar, said IT enabled transformation was invariably part of Africa's new positive narrative. His words: "Digital transformation is the need of the time for all the developing world and nations in Africa and India to share their experiences on embracing digital technologies, digital competencies, digital literacy for re-inventing lives, and changes covering all aspects of human society in the respective nations."
According to Adebayo, Nigeria ICT sector is still largely untapped and holds high prospect for win-win investments collaborations between Indian and Nigerian businesses. Partnership would allow Nigerian businesses to tap leverage the knowledge of their Indian counterparts, and develop homegrown tech solutions for the Nigerian, and African markets.
"The unrealised ICT demand in Nigeria offer huge opportunities for Indian companies, arising in segment such as products and services related to mobility, security solution, telecommunications, education, capacity building among others," said Shittu while highlighting government's commitment to encourage offshore investors to enter local ICT sector.