INEC Partners NigComSat To Deliver 2019 Election Results In Real-Time
By Oluwatobi Opusunju
Results of Nigeria's 2019 elections are to be transmitted via the satellite backbone of NigComSat 1R, owned and managed by Nigerian Communications Satellites Limited (NigComSat) as part of the plans by the country's electoral body, Independent National Electoral Commission (INEC) to release results in real-time.
INEC and NigComSat inked the deal this week in Abuja to electronically transmit the 2019 general elections through the NigComSat 1R communication satellite. The partnership allows INEC to transmit all of next year's election results live and in real time immediately after counting at each polling unit across the country.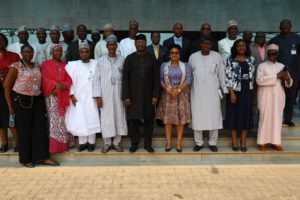 The INEC/ NigComSat partnership is the outcome of a working visit by a delegation of the electoral body led by its Chairman, Professor Mahmood Yakubu to the NigComSat's headquarters in Abuja.
Footprints and payloads of NigComSat 1R
The NigComSat 1R communication satellite has 28 active transponders comprising of C-band: four active transponders, Ku-band; 14 active transponders, Ka-band: eight active transponders and L-band payload: two active transponders. The satellite has strong footprints and centre beams over the African, European and Asia continents. It boasts of shorter latency for intra Africa communication traffic and broadband services at lower cost.
INEC which had signed a similar partnership with the Nigerian Communications Commission (NCC) to deliver seamless electronic collations and transmission of election results through telecom operators said it was in NigComSat to deepen its collaborations with communications companies so as to ensure an error proof elections fostered on technologies.
Also Read: INEC swears in eight new RECs today