"You Cannot Shut Me Down", Says Former Aide To Communication Minister Shittu
By Oluwatobi Opusunju
Mr. Victor Oluwadamilare, embittered former aide of Nigeria's Minister of Communications, Barr. Adebayo Shittu, has accused the minister of using his office to terrorize him in an attempt to shut him down.
Oluwadamilare explained to IT Edge News, at the weekend,  that he faces personal safety and security challenges since his allegations of corruption against Shittu went viral.
"But I am determined to seek justice," he told IT Edge News.
The former media aide claimed that the minister, through corrupt practices, has acquired 12 luxury houses, 25 luxury cars among others, asides the eight official cars attached to him since assuming office in 2015.
"In a space of 29 months in office and from ground zero in 2015, you now have no fewer than 12 luxury houses in Abuja, Lagos and Ibadan and a few months ago, you bought a brand new N93 million Printing Press facility," claimed Oluwadamilare in a statement that is now in public space.
"You have bought over 25 luxury vehicles for yourself, family members, concubines and cronies, outside the eight official vehicles attached to your office. In the same vein, you have expended substantial amount of money, far above your legitimate earnings as a Minister in the Buhari Administration, on your gubernatorial ambition in Oyo State," he disclosed.
Oluwadamilare who has worked for the minister for about 28 months said he worked diligently for Barrister Shittu and deserved to be paid his emolument worth 14 million naira. He accused the minister of being deliberately wicked not only to him but other aides.
Also Read: Nigeria's Communications Minister Shittu Owns 12 Luxury Homes, N93m Printing Press And 25 Cars-Spokesperson
However, the minister has dismissed Oluwadamilare as the ranting of a 'desperate ingrate' who is being politically motivated to act against his (Shittu's) gubernatorial ambition for Oyo State in the 2019 elections. Dismissing the accusation of corruption against him, the minister said he would soon be meeting Oluwadamilare in a law court.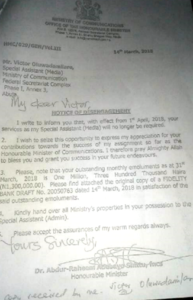 Oluwadamilare is a former chairman of Oyo state Council of the Nigeria Union of Journalists (NUJ).  Shittu has countered that the journalist was plotting evil against him with his political enemies and he then deemed Oluwadamilare unfit to continue to work for him as an aide thus, he was disengaged.
But, in a letter of disengagement obtained by IT Edge News dated March 12 and signed by Barr. Adebayo himself, the minister had showered praises on Oluwadamilare in appreciation of his "contributions towards the success of my political assignment so far."
An angry Oluwadamilare told IT Edge News that his disengagement from service after more than two years came largely as a result of the minister's refusal to pay him his rightful 28 months service arrears. He claimed the "minister's inhuman attitude towards obeying the labour laws of the country has caused [him] a lot of heartache as a man diligent in his work in the ministry."
IT Edge News could not reach Barrister Shittu as at the time of publishing this report.